mission style
Everything is custom made, We can design a piece to fit your room, from one table to an entire home!
Here's my latest project. A Georgetown Ohio couple needed a king sized bed and a pair of night-stands. Their house is a huge country Victorian style high on a hill overlooking the Ohio River valley. A bit of a departure in materials here from tradition. They liked the bold look of ash and it's outstanding grain. I like the feel and the weight of it, it's hard as a rock and should last forever.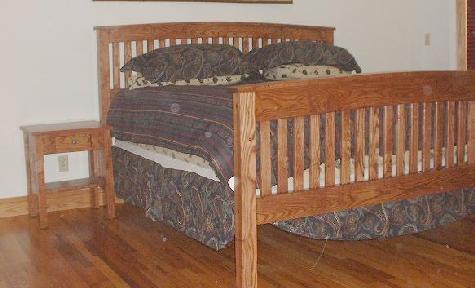 This is our most ambitious project to date. We started with the second floor of a turn of the century walkup in Newport, KY. The front room of the office measured about 20 feet square, and our client need a desk to accommodate a huge video editing system known as an "AVID", as well as an area for his clients to view the editing process comfortably.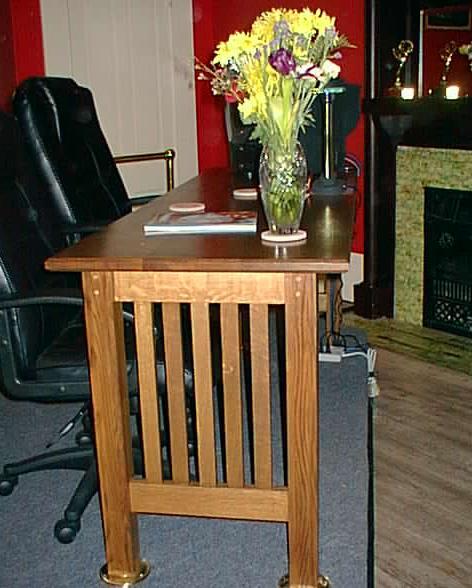 This library style table serves as the desk for client viewing. It's placed on a riser we built to elevate the client 8" above the rest of the floor, surrounded with a brass rail it really did the trick!
It's tough to get a full picture of the desk, but these two should give an idea of the size. An "ell" shape, 6 feet long each way with an elevated shelf for TV monitors.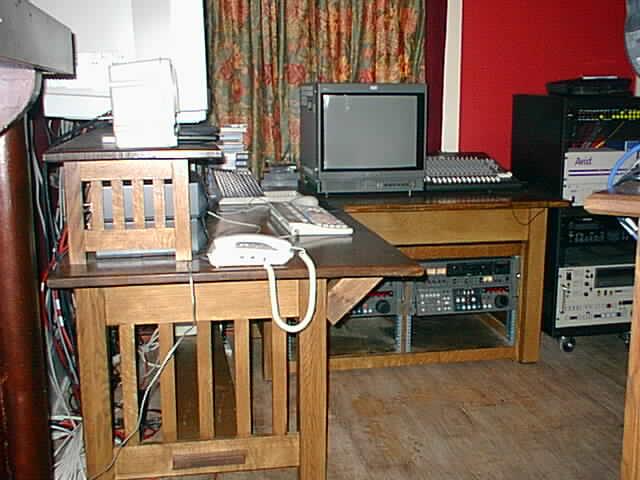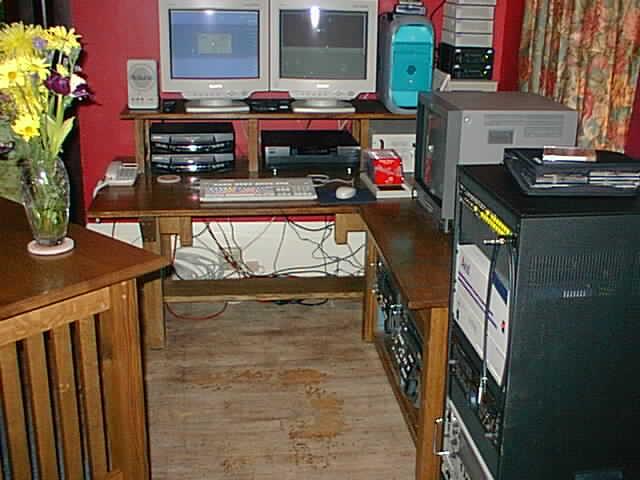 Under the left hand side of this monster is a simple shelf for computer storage, on the right a complicated rack system for holding commercial sized video equipment in place. You can also see the placement of the clients table in the right hand shot.
Taking a step back into the next room we added a wall full of shelves, and a small table for a TV.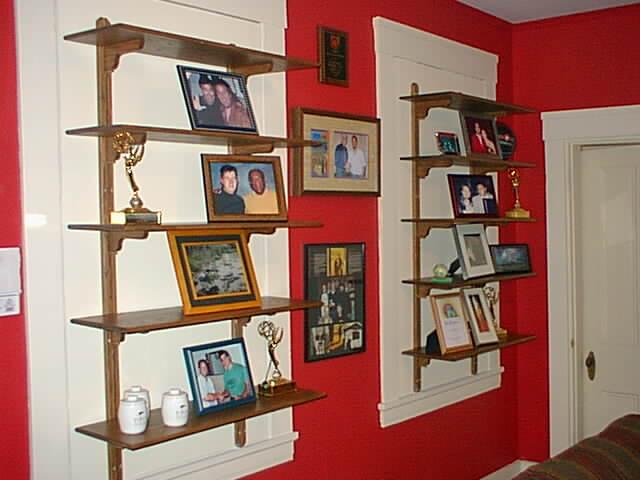 We used the same quatersawn white oak for the shelves, and the standards are done with a sliding dovetail to hold the korbel shaped brackets while offering adjustability with a bunch of hardware to get lost. Each shelf unit is six feet high, and are mounted to wood that was placed in these window frames years ago.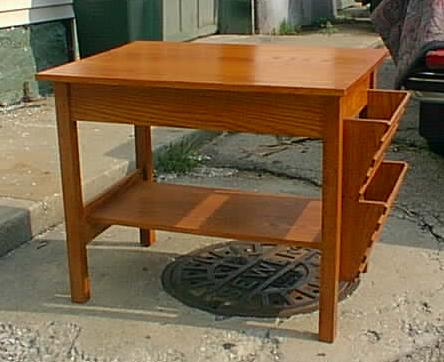 The TV Table uses the same wood, but with a different finish, we matched a store bought couch and loveseat that our client brought with him. I think you'll agree, a small piece, but very useful, my design on the double layer magazine rack gives a standard piece a nice office feel.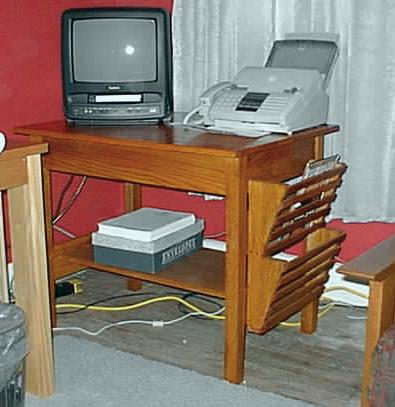 Take another step back and you come to the conference room, this massive table measures 3' by 8' and is done in 1 1/4" thick white oak. The quartersawn wood, along with the huge pedestals give it the mission feel. Our client added nice padded leather office chairs for a very professional look.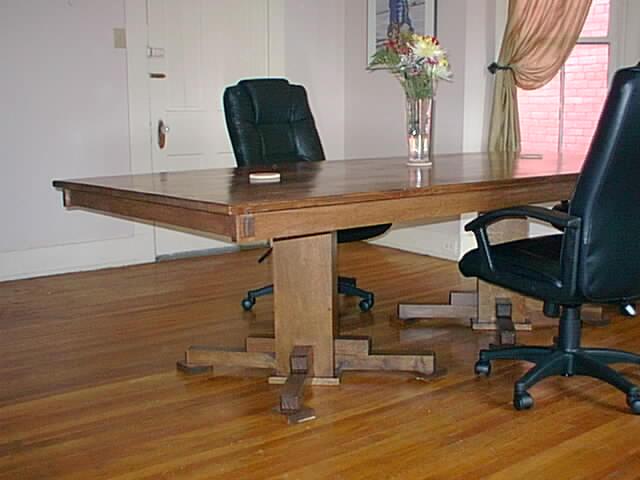 Below is a look at the table in the finishing process. With 3 coats of satin finish polyurethane, then 4 hand rubbed coats of wax, this will hold up to anything. Including the painters who used it as a step stool when finishing the ceiling!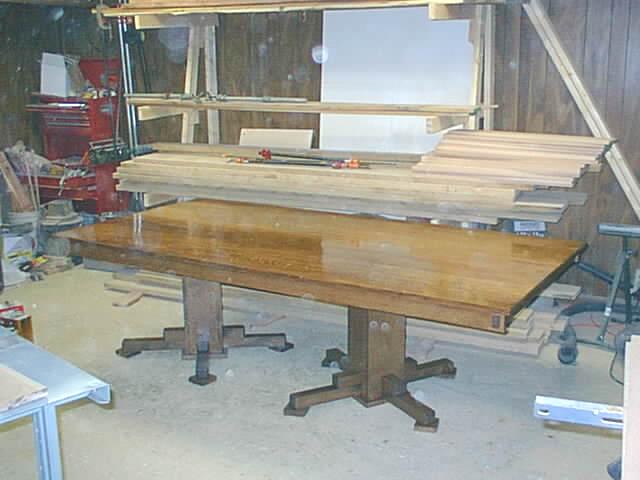 Of course we do work on a smaller scale. Here's a computer desk we designed for a young woman outfitting her condo one piece at a time. She opted for a colored finish, so we economized for her by using solid poplar and an annilin dye in black.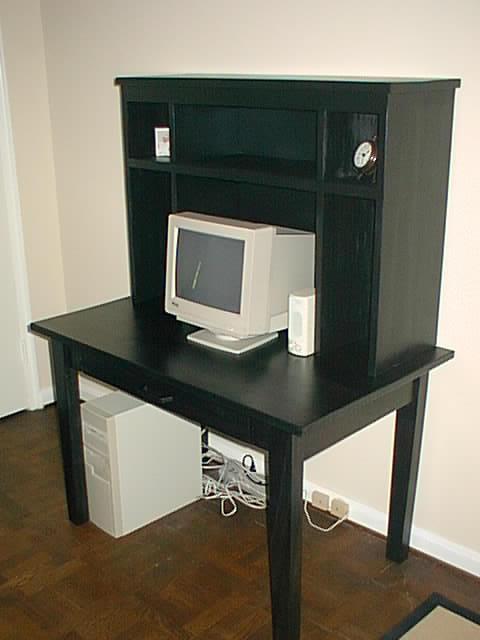 The same craftsmanship goes into a single piece as an entire office. Solid wood, no veneers, Mortise and Tenon Joinery and tight fits. Here she's taking it for a test ride. You'll notice the keyboard uses a hidden drawer to keep the desk in a compact size.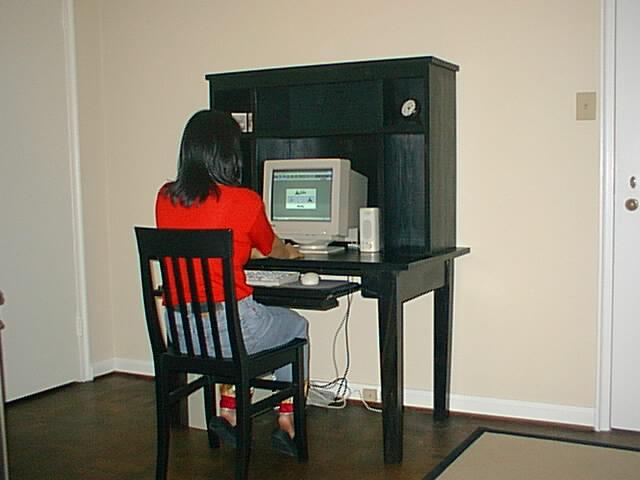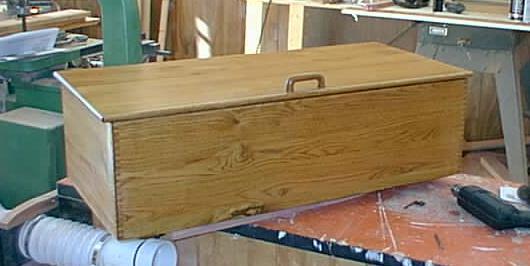 And on an even smaller scale, a simple toy box. Solid oak, a light stain, a wood handle and brass hardware. Finger jointed box corners give it a Tool Box look, perfect for a young boy. And here's what we started with, White oak 4x4, these were salvaged from a manufacturer in northern Kentucky, they used the beams to palletize sheets of steel for shipping.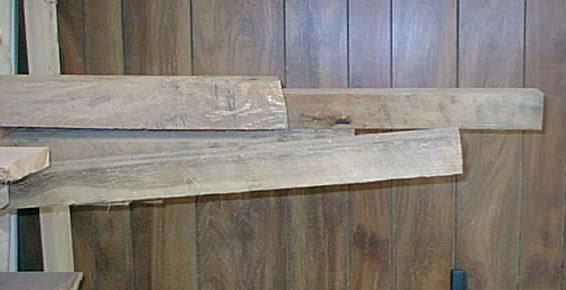 Craftsmen all over the country poured their souls into the arts and crafts style in the early part of the 20th century. We're honoring that tradition by bringing the style into the home and office of the 21st century. Solid quartersawn oak, hand rubbed finishes, classic methods of construction. SOlid, useful, beautiful, and affordable!

1836 US Route 52 Moscow, OH 45153
513-553-3209
513-312-9673