I finally got time to add another page, these are just a few examples of what I can do for you. Solid wood, Hand rubbed finishes, custom made to your specifications, not picked out of a catalog! All this at affordable prices! Let me design a piece for your home or office.

Another month goes by, and we've got another fantastic custom piece to show off! This is another jump into the world of laminates with a beautiful faux marble top with a high polished finish. The base is something special, hand made by Neville Iron Works, solid metal, it mimics the look of old cast and wrought iron fencing. This is truly a special piece, this corner desk will be used for a computer, utilizing the corner of the room for the bulky back of the monitor and gaining lots of extra desk space! Call us and we can design one for you!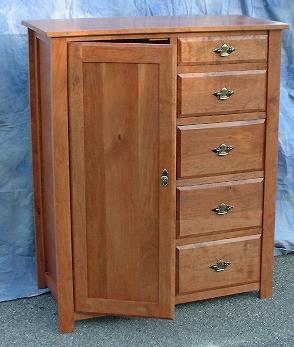 This is the one I'm most proud of! Built of solid cherry, I call it a chifarobe, the couple who ordered this piece needed it in time for a new baby's arrival. The left side will hold clothes on hangars now, and is drilled for shelves when he gets bigger. An heirloom to be!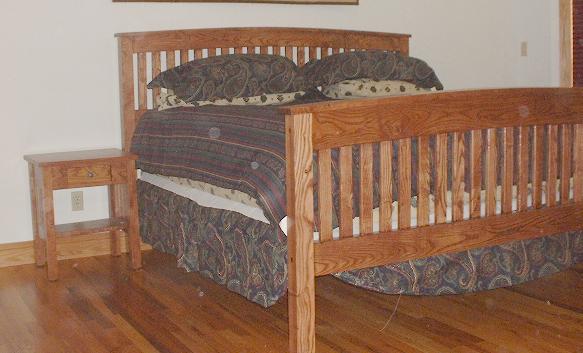 A little departure from tradition here, and an outstanding look! We made this king sized bed and pair of matching nightstands in the traditional mission style, but with Ash instead of quarter sawn oak. A big savings and an interesting change, the grain of the ash really jumps out at you!
Here's a piece I can't claim 100%, we made the top from solid ash, 32 inches wide and 8 feet long, then married to the base from an old carnival banquet table I picked frm a local estate clean out. It made the perfect harvest table for a victorian home on the Ohio River!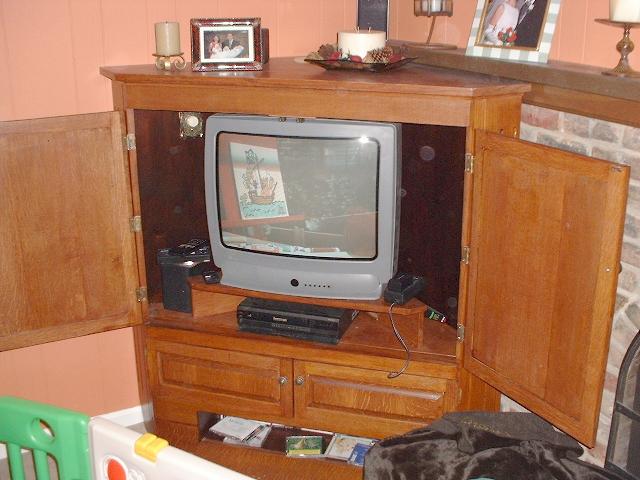 Now this was really tough, we had to design a corner cabinet/entertainment center to fit under this mantle, yet still have enough room for a good sized tv, vcr and stereo componets (the stereo is underneath behind the smaller doors) The tiny bottom hatch holds tapes, remotes etc. With the VCR under the shelf holding the TV, this can accomodate a much larger set by removing the shelf and moving the VCR!

1836 US Route 52 Moscow, OH 45153
513-553-3209
513-312-9673