Solid wood, Hand rubbed finishes, custom made to look and feel like it's part of the house, not just a box bolted to the wall. All this at affordable prices!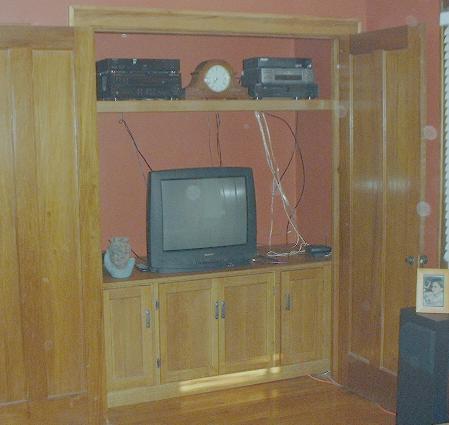 This is the latest! Built into a Murphy Bed closet in a turn of the century Arts and Crafts style home, this set of Quartersawn White Oak Cabinets will hold everything a store bought entertainment center will hold and much more!
Another new project, another challenge met! This represents quite a departure from solid wood finishes, a 12 foot long laminate audio production work station. The table tops are done in high gloss black marble laminate, the legs and audio component racks are done in a matte finish black laminate. So big it didn't fit in my camera's scope!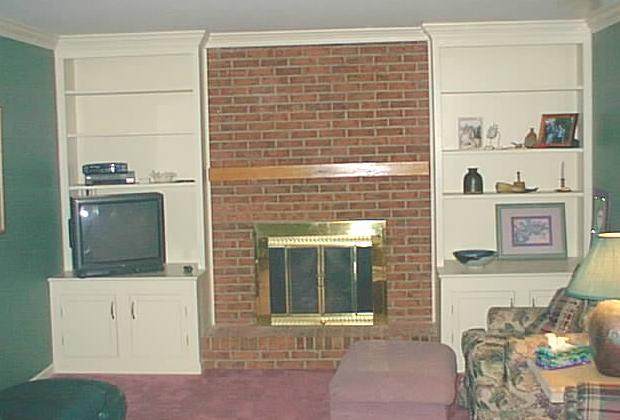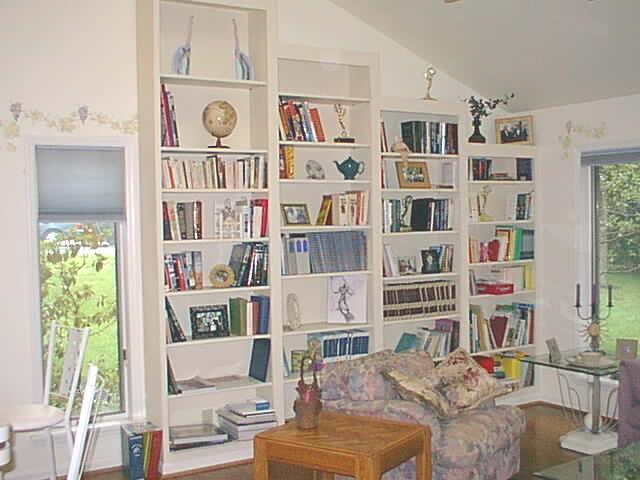 Here's an example of our work. Our customer had a den with a beautiful brick fireplace, but no storage, and a family room with a long blank wall and nowhere to store her books. These cabinets are solid wood, no veneer and no plywood. Even the shelves are solid wood. The wall on the left is about 16 feet across, with the fireplace taking up about 7 feet. On the right, the book cases are 32" wide, and range in height from 7 to 10 feet! Made of poplar and coated with a semi gloss latex it looks like it was built with the house!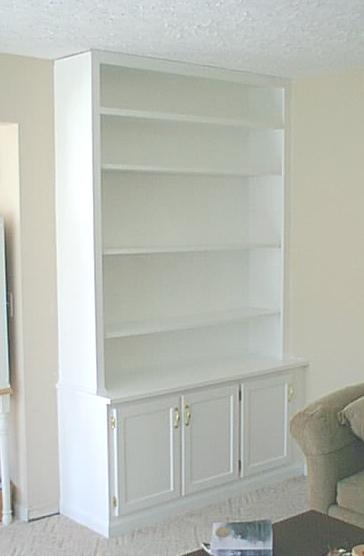 This den is a work in progress, we started in a 16 foot wide room, bare space flanked the 8' wide entry from the kitchen. Cabinets and shelves on both side of the opening with a spanner shelf overhead and it has the look of a library.

This is a bit different, our customer needed something quick, and inexpensive. Our local home improvement center had just the fit, The cabinets, counter top, an wood plank floor from start to finish in 4 days and under $3000! This is a 12' wall in a wide hallway between the dining room and kitchen of an historic condo in Cincinnati, Ohio, starting again with bare walls, the finished product offers beauty and practical storage. We started on a Monday, and using this as a serving area, she was entertaining at her moving in party on Saturday night!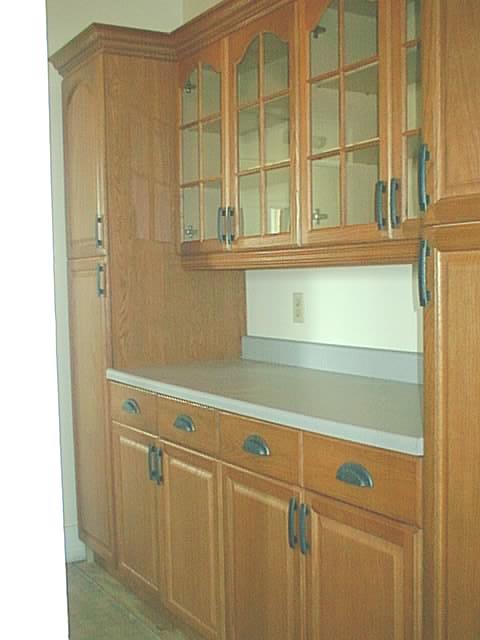 1836 US Route 52 Moscow, OH 45153
513-553-3209
513-312-9673